Peak of the Mountain Productions
Non Traditional - One of a Kind- Timeless Videos
Based out of Asheville, North Carolina & Playa del Carmen, Mexico. Traveling Globally to Document Your One of a Kind Story.
You have booked your dream wedding venue, a place where you guys connect, a breathtaking location where you guys can be yourselves. Your wedding day is everything you have ever dreamed of, you have the most beautiful flowers decorating your surroundings, your wedding dress a breathtaking sight and your vows are bringing your family and friends to tears. Every star and planet has aligned to deliver a perfect day for the two of you. The only thing you guys need to do is, entrust someone to preserve your story for years to come. A story you will pass from generation to generation.
Your Video Is Uniquely Hand Crafted To Tell Your One Of A Kind Story.
Hand Crafting Wedding Videos For The Wildly In Love. Documenting Your One Of A Kind Story So You Can Relive It Again And Again.
Hi we are Betsabe and Joey! An Aries and a Cancer that fell in love, our fire and water sign is what keeps this business interesting and running. We compliment each other and make a pretty great team. We have been married for 3 years and we were lucky to have video at our wedding, we want to make sure you do to! Let's chat and make it happen!
These guys are incredible! They were super responsive & accommodating!! Our video was so much better than we could've imagined!
I am a wedding planner and have worked with Betsy and Joey on numerous projects and they are one of my favorite vendors to work with. They are always reliable, professional and 2 of the sweetest people you will ever meet. They are also incredibly talented at what they do and will make a video of your big day that you will cherish forever. I absolutely recommend Peak of The Mountain to anyone!
We love Betsabe!!! The whole crew was phenomenal and they made our wedding day really special. We are so glad we decided to go with a videographer and we are really really glad we went with Peak of the Mountain Productions. -- Angelina & Vincenzo Palo
Betsabe and Joey are true artists and simply an amazing team! I've worked alongside them several times and they are nothing short of magic! They both exhibit professionalism, artistry, dedication, and kindness every step of the way. Booking Peak of the Mountain is 1000% a great choice!
We adore Peak of the Mtn Productions team, and honestly their work takes our breath away every time we see it. Our team at Carolina Music Planner works closely with Peak of the Mtn Productions for weddings and other special events, and their videos are breathtaking. You won't be disappointed if you hire them!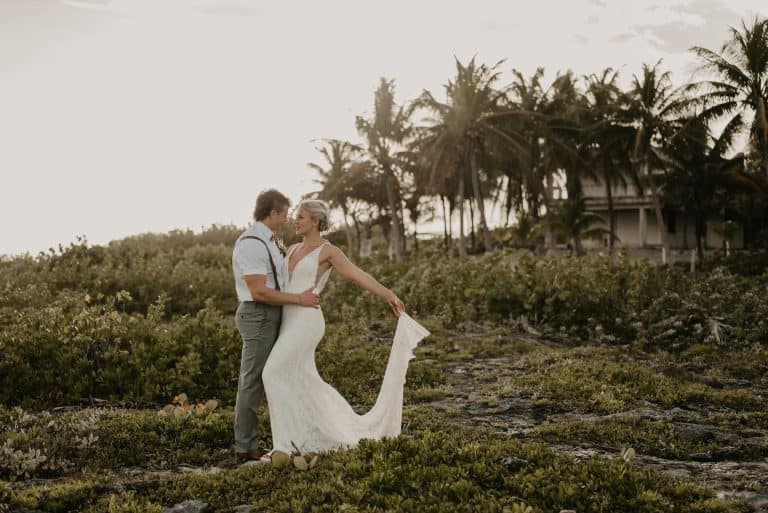 Blue Venado Beach Wedding By Peak of the Mountain Productions  Photos: Maricarmen Arcos Photography Cass and Kyler had the wedding of their dreams and as you can see from their wedding video and wedding photos,
Read More »
More About Peak of the Mountain Productions
We are Betsabe and Joey! Two mountain dwelling and beach loving souls who decided to take the journey of life together. We climbed the mountain together, and have our video to relive it. We want to help you not just remember but relive your day as well. Whether you are scaling the highest mountains to say "I Do" at the peak or feeling the sand on your toes as you walk down the aisle to your person, we can't wait to meet you!
"We are the capturers of emotions and the little moments between the Frames.
We are the storytellers who help you relive every moment of your day.
We strive to not be seen and let the emotions between you run naturally.
When your day is over the magic still flows, let us help you not just remember your day but relive it."
Reach Out // Hablamos Español